0903164838
Email:pricing@asl-corp.com
Visitors:
Orient Express Lines Begins Indian Subcontinent Feeder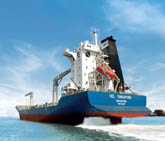 Regional container carrier Orient Express Lines has launched a new dedicated feeder service linking key hub ports in the Indian subcontinent.
The service, which began Sept. 4, offers a fortnightly rotation of Colombo, Sri Lanka; Karachi, Pakistan; Mundra, India; and back to Colombo. The 860-TEU OEL Freedom is deployed on the route.
"This service would connect to OEL's various services operated from the Colombo hub, providing through coverage to Bangladesh, Southeast Asia and Arabian Gulf ports," the company said in a statement.
The Journal of Commerce